Goldman Sachs Group initiated coverage on shares of Man Group (LON:EMG) in a report released on Tuesday, June 4th, ThisIsMoney.Co.Uk reports. The firm issued a neutral rating and a GBX 155 ($2.03) price objective on the investment management company's stock.
Several other research analysts have also weighed in on the stock. Bank of America reiterated a neutral rating on shares of Man Group in a report on Wednesday, May 15th. Berenberg Bank started coverage on shares of Man Group in a research report on Tuesday, April 23rd. They set a buy rating and a GBX 206 ($2.69) target price for the company. Shore Capital reaffirmed a buy rating on shares of Man Group in a research report on Friday, March 1st. Credit Suisse Group reaffirmed an outperform rating on shares of Man Group in a research report on Tuesday, April 30th. Finally, JPMorgan Chase & Co. lowered their price objective on shares of Man Group from GBX 165 ($2.16) to GBX 160 ($2.09) and set a neutral rating for the company in a research report on Tuesday, March 5th. Four equities research analysts have rated the stock with a hold rating and six have assigned a buy rating to the company's stock. The company presently has an average rating of Buy and an average price target of GBX 172.75 ($2.26).
Shares of Man Group stock traded up GBX 2.55 ($0.03) on Tuesday, hitting GBX 153.20 ($2.00). The company's stock had a trading volume of 2,406,952 shares, compared to its average volume of 9,940,000. The stock has a market cap of $2.32 billion and a P/E ratio of 9.01. The company has a quick ratio of 2.92, a current ratio of 3.38 and a debt-to-equity ratio of 9.42. The business has a fifty day moving average of GBX 148.23. Man Group has a 52-week low of GBX 124.15 ($1.62) and a 52-week high of GBX 187.40 ($2.45).
Man Group Company Profile
Man Group plc provides alternative investment management services worldwide. The company offers a range of liquid investment products and solutions, which include quantitative and discretionary, long only and long short, and single and multi-manager. It distributes its products and solutions directly to institutions; and to private investors through a network of intermediaries.
Read More: What is the accumulation/distribution indicator?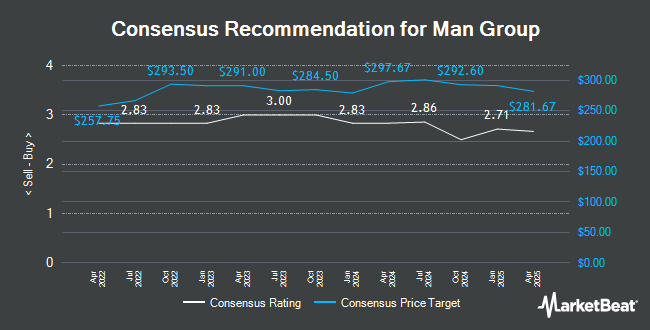 Receive News & Ratings for Man Group Daily - Enter your email address below to receive a concise daily summary of the latest news and analysts' ratings for Man Group and related companies with MarketBeat.com's FREE daily email newsletter.